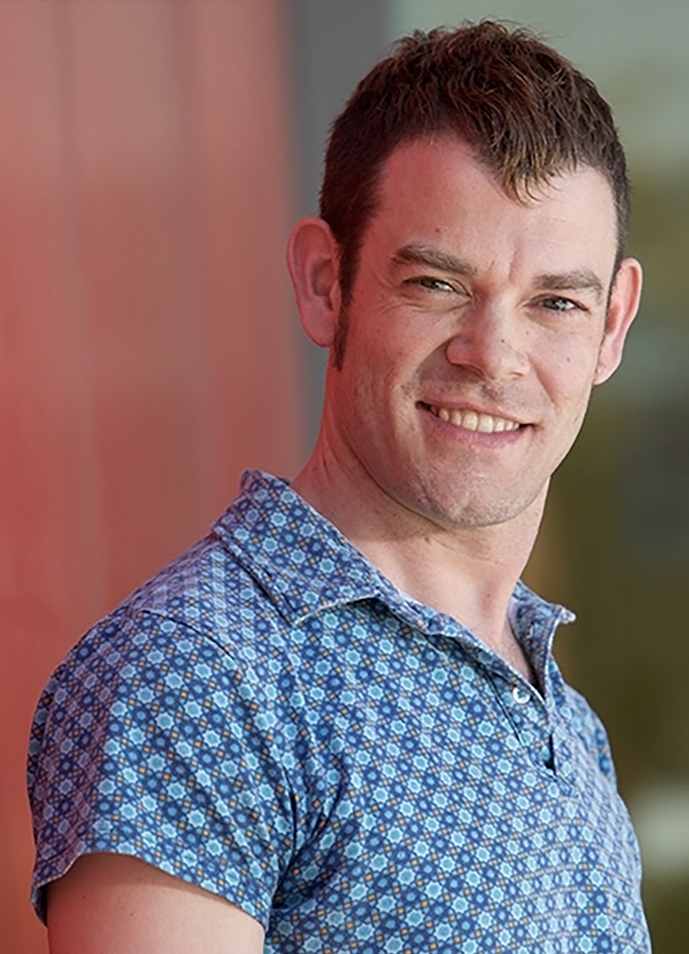 Matt Hollis creates abstract/organic, soft sculpture and large scale installations in eye-popping colors and oddly-appealing textures. He has shown work and created installations in galleries all around the Washington D.C area as well as Los Angeles, California where he currently lives and works. He earned a BA in Studio Art from St. Mary's College of Maryland in 2003. After living and working in his fantastical jungle of a studio in the historic 52 O Street Studios in Washington DC for over 13 years, he relocated to California to earn his MFA at Otis College of Art & Design, graduating with an Academic Excellence award in 2019.
In 2016 Hollis was awarded an Artist Fellowship Grant from the DC Commission of Arts & Humanities. He was also invited to be a visiting artist for a 5-week residency at The Artist House at St. Mary's College. In 2015 he was 1 of of 3 artists chosen to travel to France for an artistic research trip with Transformer gallery sponsored by the Sister Cities Grant from the DCCAH.
Contact Matt Hollis for more info, latest updates, and project proposals HERE!
Press:
Selected Exhibitions:
2019
"Offal" Los Angeles Municipal Art Gallery,Aug. 15 – Sept. 29
"(Beyond) Redemption" Launch LA/Backspace Gallery, Aug. 10- 24
"In Plain Site – MFA Fine Arts Class of 2019" Bolsky Gallery, Otis College of Art & Design, May 02 – 19
"the ecstasy of undoing" MFA Thesis Show, Bolsky Gallery, Otis College of Art & Design, March 28 – 31
2017
"florilegia: Works of Matt Hollis" Otis Street Arts Project, July 8 – Aug.5
2016
"Wave of Pollination" (installation), Transformer Silent Auction @ AU Katzen Arts Center, Nov. 19
"Good and Plenty" School 33 Arts Center, Sept. 9 – Oct. 29
"Flora DNA" (window display), Coldwell Banker, July 22 – Sept. 7
"Sip & Paint Van Gogh's The Starry Night" DCAC, April 29 – May 29
"Eternal Spring" Art Annex, St. Mary's College of MD, Feb. 1 – 19
2015
"Personal Patterns" Montgomery College, King Street Gallery, Oct. 22 – Nov. 25
"AFP16 Visual Arts Exhibition" DCCAH Gallery, Aug. 14 – Sept. 30
"Eternal Spring – Matt Hollis" Anacostia Arts Center, March 27 – April 25
"Locally Sourced" Katzen Art Center @ American University Jan. 24 – March 15
2014
"sorting stimuli (orderly flora)" Transformer, August 8 – 12
"Altered Ego" Joan Hisaoka Healing Arts Gallery, June 4 – August 24
"Softer, Softest" Delicious Spectacle, May 30 – June 21
"Alchemical Vessels Benefit 2014″ Joan Hisaoka Healing Arts Gallery, April 4 – May 16
"LOULOUDI Flower/ to Flower" The Athenaeum, March 20 – May 4
2013
"Art Romp Anacostia" Anacostia Arts Center, August 23 – Sept 15
"Expansions" Transformer, March 15 – April 20
2012
2011
"Randi Reiss-McCormack & Matt Hollis" installation in Project Space, Harmon Art Lab, Sept. 10 – Oct. 1
"from your representatives, with love" Taffety Punk Theatre Co., set pieces & costumes, May 5-7
2010
IN-FLUX: Window Peek-Show "lotus descending" Joan Hisaoka Gallery, September 3 – 23
"incubator" installation, Arts On N Festival, August 14 & 15
"Constructed Place" Annmarie Garden, March 20 – May 8
2009
Artomatic 2009, "birth of a galaxy" May 29 – July 5
2008
Artomatic 2008, "Last Stand" May 9 – June 15
"The End of Nature" The Warehouse, April 11 – May 4
"Peace NOW" The Warehouse, Feb. 22 – April 6
2007
"Matt Hollis: everything is possible all the time" Longview Gallery, Jan. 15 – Feb. 5
Artomatic 2007, April 13 – May 20
2006
"Abstract Art," MOCA DC, Feb. 3 – 24
2005
"Art in Transition" Silver Spring, May 21 – June 19
"Queering Sight: Queer Insight" , The Warehouse, June 3 – 26
"1460 Wall Mountables" DCAC, July 29 – Sept. 7
"Where is the Peace?" The Warehouse, Sept. 8 – Oct. 2
"Hey, Is That a Boy or a Girl? Artists Look at Gender" The Warehouse, Nov. 4 – Dec. 4
2004
Artomatic 2004, Nov. 12 – Dec. 5
"1460 Wall Mountables" DCAC, July 16 – Aug. 22